finustar3 > Venue
The conference will be held at the Rodos Palace Hotel where the last EURONS Town Meeting took place on September 2008. It is located on the north-eastern coast of Rhodos, 2 Km north of the capital city Rhodos and about 15 Km from the airport.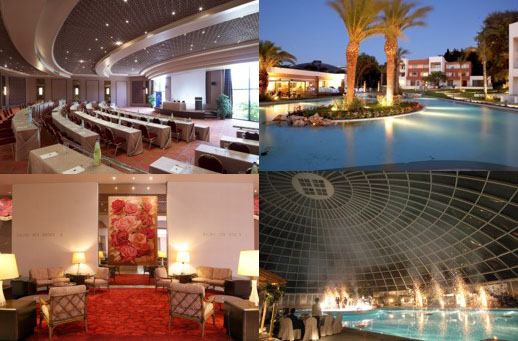 Travel information
Air Connections:
"Diagoras" International Airport is located at Kremasti, 15 km South West of the town of Rhodos and 12 km from the Hotel. There are regular international charter flights to and from most European cities, mainly during the summer, as well as a large number of charter flights to and from the rest of the world. Moreover there are daily flights to Athens, Heraklion and Thessaloniki and regular connections with the neighboring islands of Kastellorizo, Karpathos and Kassos. Transportation from the Airport to the Hotel is possible by taxi service, regular public bus service and car rental. The average travel time is 10-15 minutes.
Sea Connections:
There are daily sailings from Piraeus all year round, more frequent in the summer months. The commercial harbor is situated in the city of Rhodos, about 4 km from the Hotel. All international and domestic ferries and cruise liners dock here. There are regular ferry lines connecting Rhodos to Athens (Piraeus), Thessaloniki, Heraklion, Cyprus and Turkey. Rhodos is also connected with all neighboring islands through extensive boat and hydrofoil services. Most of them dock at the commercial port and some at the Mandraki harbor.Transportation from the Commercial Port and Mandraki Harbour to the Hotel is possible by taxi service and regular public bus service. The average travel time is 5 minutes.